08.02.2007 НА ЗАСЕДАНИИ ПРАВИТЕЛЬСТВА

На очередном заседании кабинет министров принял решение аннулировать своё 93-е постановление о переходе на летнее время. Согласно правительственным постановлениям от 1983 , 1986 и 2001 годов каждый год стрелки часов переводили на час раньше в летнее время.

Произошли изменения в экономическом положении страны, в рыночных отношениях и в условиях энергетических предприятий, более того, перевод времени крайне негативно влияет на здоровье человека, считает правительство. С учётом всего этого кабинет счёл целесообразным не переходить к летнему времени, сообщает пресс-служба правительства.


---
February 8, 2007 GOVERNMENT MEETING

At a recent meeting of The Cabinet Ministry, it was decided to annul the 93rd decree which calls for the transition to Summer Time (DST). According to government regulations from 1983, 1986, and 2001, each year the clock advanced one hour earlier during the summer.

The government press service reported that due to economic circumstances of the country, the market economy, the energy industry, and citing the adverse impact on human health, the government has chosen not to move to Summer Time (Daylight Saving Time).
(translated by WorldTimeZone.com)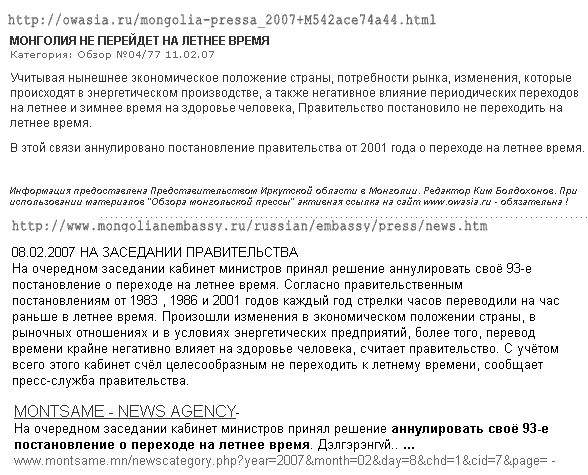 Back to DST News