Destinations: Counting the nanoseconds to 2000
The Dallas Morning News
By Tim Wyatt / The Dallas Morning News
12/02/99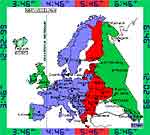 World Timezones
www.worldtimezone.com

Alexander Krivenyshev is a worldly guy who does a great job of keeping track of time all over the globe. His site has a number of features including layouts of time zones with the correct time, a clock selector by country and a pop-up map that displays where the sun is shining on Earth.

But we picked this site for its Millenium Clock that will display the new year as it spreads west from the international date line. Animated cruise ships float back and forth across the date line as a fireworks display goes off somewhere near the island of Tonga.

Mr. Krivenyshev has also posted listings of who's first and last to celebrate 2000. Sura, Fiji, appears to launch the big party, and American Samoa will have to be satisfied with finishing it off. Now, back to hoarding ammunition and bottled water in case things get crazy come Jan. 1.